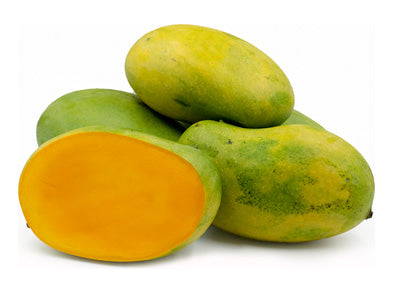 Organic Mallika Mango
Currently this Product is Out Of Stock.
Organic Mallika Mango is a popular mango cultivar which was the successful result of the hybridization of two Indian mango varieties, Neelum and Dassheri. This marvelous discovery was done by Dr. Anand Singh. When grafting is done, the tree remains of a manageable size and can be grown in your backyard as well. The fruit is blissfully sweet and has a tangy feel of citrus fruits and the touch of melon and honey. It is fiberless high-quality fruit with vivid orange color. It is usually ready to be cultivated around June or July. It has a tropical fresh taste loved by many. It is highly disease resistant.
Best quality Organic Mallika Mango is a super fruit. It is a great source of Vitamin A and C. It is known to contain even folate and potassium. Mallika Mango is completely free of fat. It acts as an astringent, antiseptic, laxative and a diuretic. It is useful in curing diarrhea, dysentery, and asthma. It is also popularly used to relieve symptoms of anemia, cough, bronchitis, and hypertension. Fresh farm Organic Mallika mango is cultivated without the use of harmful chemicals which have the potential to destroy internal organs. This variety is grown naturally. It also helps to prevent cancer.
High-quality Mallika Mango is enjoyed in different delicacies like mango yogurt, fruit custard, fruit salad, ice-creams, jellies, juices, and jams.