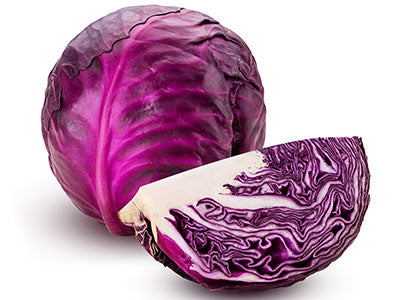 Organic Red Cabbage
Currently this Product is Out Of Stock.
Organic red cabbage distinguished by its colour is also called 
purple cabbage
 or red kraut and is found all over the world. It is believed to have originated in England sometime in the 14th century. The word cabbage is derived from the french word caboche which means head, owing to its round shape. The leaves of this cabbage have a deep red or sometimes even a purple shade to them depending on the presence of the compound anthocyanins in them..
This has lesser water content than the other variety and hence is crispier and tougher. No only does red cabbage possess anti-inflammatory properties and act as relief to digestion concerns, but they are also used for therapeutic purposes for the body. Did you know you could also use it for tie and dye purposes because of its rich colour? The reason why it's so popular is because of the abundance of nutrients it provides which include calcium, phosphorus, sodium, iron plus vitamin C, vitamin A and vitamin K. It is also high in fiber which is best for digestion. Some of its really prominent health benefits include its role in preventing cancer because of high level of antioxidants, aids in weight loss, reduces the wrinkles and prevents skin from ageing and is a very good treatment for ulcers.
You can order
best quality red cabbage
online and make irresistible tikkis with our organic baby potatoes or even give it a desi chinese twist by making manchurian with our organic spring garlic and
organic capsicum
.