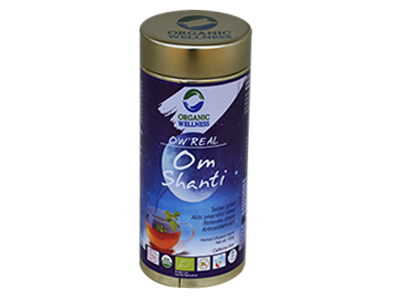 OW' Real Om Shanti
Currently this Product is Out Of Stock.
OW'REAL Om Shanti is a relaxing blend of Organic Tulsi, Organic Cardamom, Peppermint, Chamomile, Shankhpushpi, Ashwagandha & Brahmi.
Ayurveda has mentioned all these ingredients effective to calm down your nervous system and help relax your body. Ashwagandha foster natural relaxation. Brahmi has sedative properties that help you get sound sleep..
Having tea before sleep is not regular thing that we do, but having a cup of Om Shanti Organic tea, which is available at affrodable rates here, will definitely get you sound sleep, relaxed body and fresh mornings everyday.