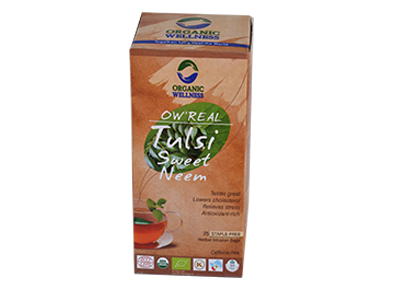 OW' Real Sweet Neem
Currently this Product is Out Of Stock.
OW'REAL Tulsi Sweet Neem is an unique blend of assorted Organic Tulsi and Organic fresh Curry leaves.
Antioxidant-rich Tulsi is a great stress reliever and boosts the immune system. Curry leaves reduce Low Density Lipoprotein (LDL), commonly called the 'bad cholesterol'.
This unique combination of Organic Tulsi and Organic Sweet Neem (curry leaves) bring a burst of unique flavors together. It makes a healthy cup of refreshment. You can add a little organic honey to it to make it more effective.