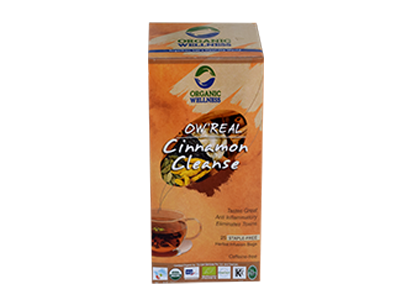 OW' Real Cinnamon Cleanse
Currently this Product is Out Of Stock.
OW'Real Cinnamon Cleanse is a sweet smelling blend of Organic Cinnamon, Organic Cardamom, Organic Black Pepper with Organic Ginger & Organic Turmeric.
Cinnamon is rich in antioxidants and helps eliminate toxins from the body that cause free-radical damage to cells. Cardamom & Turmeric help in cleansing of the liver. Ginger improves the absorption and stimulation of essential nutrients in the body. Turmeric plays the role of a magic wand to heal you from inside.
Carry these Cinnamon Cleanse tea bags everywhere you go and stay fit, hydrated and immune all the time.