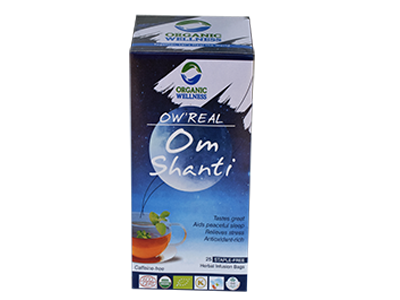 OW' Real Om Shanti
Currently this Product is Out Of Stock.
OW'REAL Om Shanti is a cool blend of Tulsi, Cardamom, Peppermint, Chamomile, Shankhpushpi, Ashwagandha & Brahmi, as it suggests.
Antioxidant-rich Tulsi is a stress reliever and immunity booster. Chamomile help calming the nervous system. Ashwagandha promotes natural relaxation. Brahmi has sedative properties and soothes the mind for peaceful sleep.
A cup of Organic Om Shanti Tea before sleep assures your healing from mental and physical stress. It is good to carry it during travels to avoid sleepless nights and get over from travel stress.