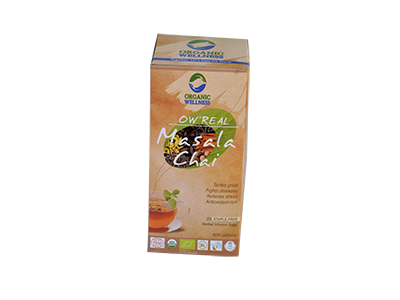 OW' Real Masala Chai
Currently this Product is Out Of Stock.
OW'Real Masala Chai is a typical Indian yet exotic mix of Organic Tulsi, strong Black Tea and assorted Indian Spices.
As mentioned in Ayurveda, all the organic spices used in Indian cooking help improve immunity, metabolism etc. Antioxidant-rich Tulsi acts as a stress reliever and strengthens the immune system. Black Tea keeps you active throughout. Cinnamon is good for diabetics. Ginger relieves common cold and digestion problems. Organic Cardamon and Organic Black Pepper help digestion, weight control. Cloves are anti-septic. Nutmeg has anti-bacterial properties.
Organic Masala Chai blend of healthy-natural-organic Indian spices is favorite to all the Indians. Carry Organic Masala chai tea bags anywhere and enjoy your special cup of Masala Chai.