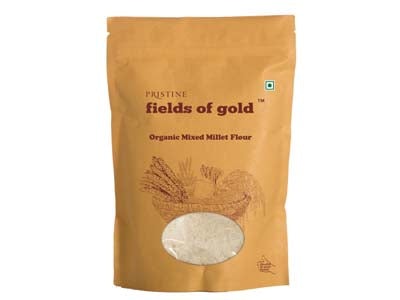 Organic Mixed Millet Flour (Pristine)
Currently this Product is Out Of Stock.
Pristine organic mixed millet flour contains a mixture of all the healthy organic millet flours. Millets have been used by mankind since prehistoric times and still today, they are important staple food in many regions of India as well as world. Organic millets are known to be cultivated mainly in developing countries, both for cattle fed and human consumption. Millets are able to thrive well in fairly harsh environment conditions and cooking them is simple and less time consuming.
Organic mixed millet flour is a must in everybody's kitchen as it consists of all essential organic and inorganic nutrients that will make your diet complete. Pristine healthy organic mixed millet flour gives you the required energy in the form of carbohydrates, proteins and fats. It is excellent source of dietary fiber and minerals like calcium, magnesium, iron, phosphorus, manganese and potassium. The antioxidants and anti-inflammatory properties will help prevent problems related to digestion, cholesterol, blood pressure, obesity, and diabetes.
We would recommend you to buy best and pure Pristine organic mixed millet flour and protect your family from routine physical ailments and enjoy a healthy life. Meal and breakfast recipes will make your tummy full and kids will love spicy snacks. You can either try making hot and spicy rotis for your meal or sweet, chocolate stuffed cookies for kids.