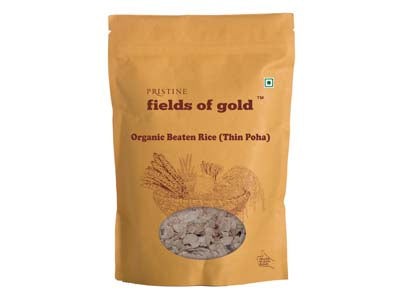 Organic Beaten Rice (Thin Poha) (Pristine)
Currently this Product is Out Of Stock.
Unlike white rice, red rice doesn't undergo excessive processing, and as such the other bran layer remains intact, which is rich is fiber, vitamin B, and minerals like calcium, zinc, iron, manganese, magnesium etc. Red rice is also enriched with antioxidants that help in fighting free radicals in our body, preventing the risk of diseases like cancer.
Poha is also known as flattened rice, beaten rice, rice flakes, atukulu, aval and avalakki. Its health benefits known are that they are easier to digest and have more iron content than white rice. Now, imagine the combination of Red Rice as Rice flakes! Pristine Organic Red Rice Poha is one of its kind. It has the benefits of rice flakes and of red rice. Added benefit is that it is organic as well. Rich in dietary fiber, easy to digest, simple to cook, rich in antioxidants with great texture. Red Poha is your best alternative to White Poha. Pristine's Red Poha is the healthiest breakfast for you to kick start your day!
Organic thin beaten rice is very a good source of carbohydrates and iron. Also, it is gluten free and rich in fibre. These healthy contents in Organic Thin Poha makes it healthy breakfast and snack option for diabetes, skin and heart patients.
Organic Thin poha is the best to use for making Indian's favorite traditional Chiwada recipe, which is specially made during the biggest festival-Diwali.