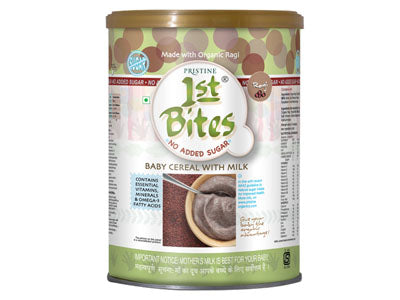 Organic 1st Bites - Ragi - No Added Sugar (Pristine)
Currently this Product is Out Of Stock.
Organic 1st Bites - Ragi has no Added Sugar at all, that helps your kid develop a habit of healthy eating. It is very healthy and specially made for 6 to 24 months. This special food made with Organic Ragi and other organic ingredients which help your baby get stronger and immune.
It has no sugar added and no preservatiives used while making it. It contains protein, carbohydrates, Fat, Omega 3 fatty acid, folic acid, many vitamins and a lot of minerals for your child's mental and physical growth.
Keep the opened pack store in a airtight container in a dry place. Close the lid firmly after every use to avoid it getting moist and form lumps. Please read the feeding instructions.