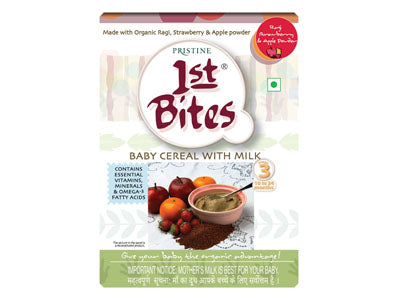 Organic 1st Bites - Ragi, Strawberry & Apple Powder (Pristine)
Currently this Product is Out Of Stock.
Here is the best option to feed your child the food he actually needs for overall development. Specially added two most important organic fruits in this combination food, Organic Strawberry and Organic Apple are very flavorful and are easy to digest for infants as well. Organic Finger Millet, Milk solids, Organic Sugar, Organic Apple Powder, Organic Strawberry Powder, Organic Orange Powder, Salt, Vitamins and Minerals, etc in this perfect blend, makes it tasty .
The carefully added organic fruits in this meal for your child gives it natural sweet and tangy taste which makes it likable to babies. The organic 1st bites product range is made considering all the needs of a baby and also to make it tasty yet healthy from the very first bite that a baby takes.
You can follow the cooking instructions on the package and feed your baby. But if you want you can add some other seasonal fruits in puree or in chopped form for your child as per choice.