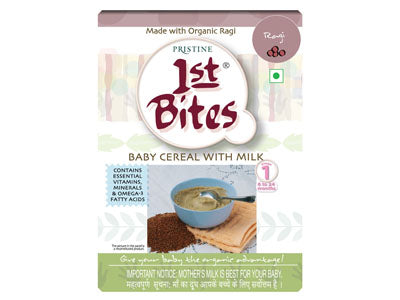 Organic 1st Bites - Ragi (Pristine)
Currently this Product is Out Of Stock.
Organic 1st Bites - Ragi by Pristine makes a healthy option as a baby food for 6-24 months old babies. The ingredients added in this baby food are carefully chosen and are only Certified Organic.
Organic Ragi, Organic Sugar, milk solids etc makes it all very healthy and completely safe baby food.
Cook it as per the instructions given on the packet or you can add finely chopped or powdered dry fruits or some chopped seasonal fruits or fruit pulp to enhance its taste.