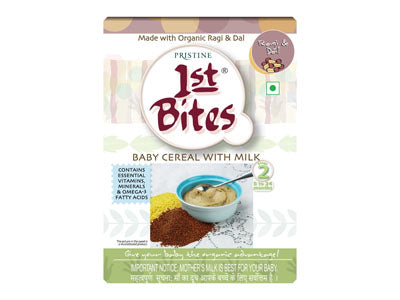 Organic 1st Bites - Ragi & Dal (Pristine)
Currently this Product is Out Of Stock.
Organic Ragi and Organic Moong Dal cannot be a common combination but it is definitely the best suited for 6-24 months old baby to have as a meal or have between the meals for hunger pangs.
Organic1st Bites- Ragi and Moong Dal are made with complete organic ingredients which makes it super healthy and super tasty for your child's initial meals.
Unlike boring foods which kids reject to eat, once the baby starts eating regular food you can add some chopped vegetables like pumpkin or sweet potato and some chopped dry fruits to have different tastes.