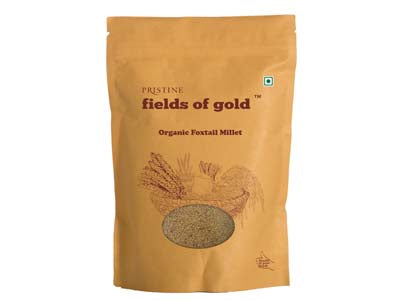 Organic Foxtail Millet (Pristine)
Currently this Product is Out Of Stock.
Foxtail millet is called so because of its resemblance to a fox's tail. It is the second most widely planted and popular species of millet in East Asia. It was first domesticated in China around 6000 BC, according to archaeological findings. It has other names as well like dwarf Setaria, foxtail bristlegrass, giant Setaria, green foxtail, Italian millet, and German millet. It is an annual grass. Foxtail millet is the staple crop of the Philippines. It is cultivated in other places like Southeast Asia, China, Korea, German, Georgia, and Japan.
Foxtail millet helps in controlling blood sugar level and keeping a check on cholesterol levels of our body. Like all other millets, it is a good source of antioxidants which helps in preventing aging. It also decreases triglycerides and C-reactive proteins. It can be consumed even by the patients of diabetes. It is rich in magnesium that can reduce the risk of osteoporosis and bone damage. It is also low in calories and hence helpful in weight loss and maintenance of our overall health.
You can try something new like foxtail millet fried rice or something routine like foxtail millet upma. You can even make Foxtail Millet Rava Idli or a twist to dhokla by adding foxtail millet and spinach. You can switch rich with for healthier foxtail millet and prepare millet biryani or pulao.