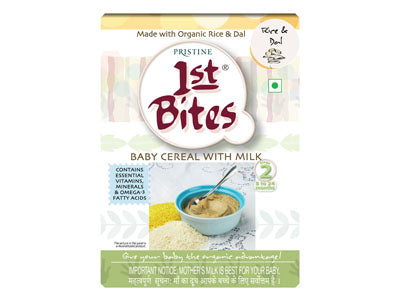 Organic 1st Bites - Rice & Dal (Pristine)
Currently this Product is Out Of Stock.
This is a perfect meal for a baby to take as 1st bite! Organic Rice and organic moong dal are very light on an infant's stomach. Be it doctors or be it Grandma, both will definnitely approve of this baby food.
Organic 1st Bites-Rice and Dal combination is made with 100% Organic ingredients which helps your baby protected from any kind of chemicals and pesticides that are used while cultivation process.
Feed your child Organic 1st Bites-Rice and Dal thrice or four times a day to keep him full and energetic throughout the day. Keep the packet in a air tight container to keep it away from moisture.