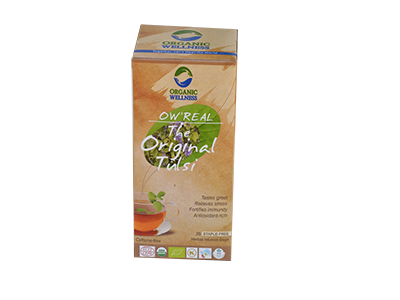 OW' Real The Original Tulsi
Currently this Product is Out Of Stock.
OW'REAL The Original Tulsi celebrates the perfect amalgamation of Rama, Krishna and Vana—three of the purest forms of Tulsi!
Tulsi is a potent adaptogen and helps your body adapt to stress better. Rich in antioxidants, it helps eliminate toxins from the body that cause free-radical damage to cells. Being an effective immunomodulator, Tulsi helps fortify the immune system and is effective in relieving common cold, cough & other respiratory health disorders.
Order these Organic Original Tulsi bag and have a cup of immunity improvement green tea every day. Stay immune and healthy with naturally made Original Tulsi tea.