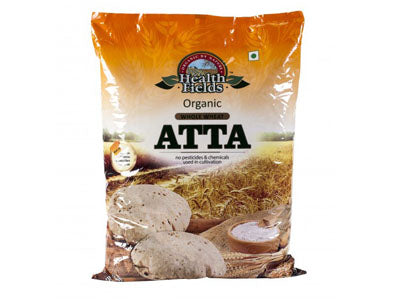 Organic Wheat Flour Atta (Health Fields)
Currently this Product is Out Of Stock.
Wheat belongs to grass family and is evolved from an ancestor that grew 65 million years ago. Our country is the second largest producer of wheat after China. Today we have many hybrid wheat varieties in which main ingredient is gluten, but many people have allergy to gluten and require gluten-free foods. Natural organic wheat is also used for other purposes as making starch and gluten, in beer production; also wheat straw is used for making building blocks for construction. Kansas, hosts world famous Kansas wheat festival every year after wheat harvest.
Healthfields wheat flour is the most complete source of energy, fiber, vitamins and minerals. Wheat kernel is made up of outer bran, which contains vitamin B, trace minerals and dietary fiber, the wheat germ with some minerals and some protein, and the endosperm with mainly proteins and carbohydrates. You get benefits of all these in Healthfields wheat flour. Homemade facial scrub prepared from Healthfields wheat flour will leave you with a smooth, glowing skin.
Any Healthfields organic wheat flour recipe is perfect for your breakfast, lunch and dinner; moreover, it is loved by both children and adults when it is presented in sweet or spicy form. Try baked cookies from natural organic wheat flour stuffed with nuts and fruits for birthdays or weekends and everybody will just love it. If you want it salty, just add grated ginger, cumin seeds and salt to taste.