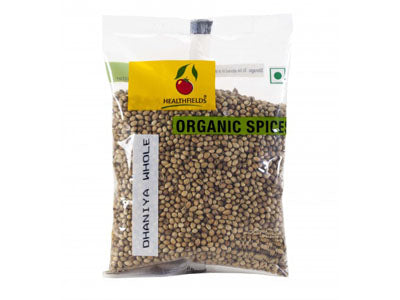 Organic Dhania / Coriander Whole (Health Fields)
Currently this Product is Out Of Stock.
Coriander is quite a household name in many parts of the world, since the ancient world. The dry coriander seeds are an unavoidable ingredient in various spice preparations and dishes. It is majorly used in dried-roasted and powdered spices in India. It is one of the unavoidable and so common spices among other Indian spices.
Natural coriander seeds are a good source of plant-based anti-oxidants. The amazing aroma of natural organic Dhaniya seeds comes from some essential oils and fatty acids. Apart from the aroma, these oils impart digestive and anti-flatulent properties to the seeds. Organic Dhaniya seeds contain a good amount of fiber. For better kidney functions and to cool your stomach during summers or in very high temperatures around, soak overnight a spoonful of organic coriander seeds in a glass of water and consume that water filtering out the seeds, in the morning.
If you really want the fresh coriander aroma, crush the seeds fresh as and when required rather than using stored powder, is it specially used making Goan style fish curries. Pure Organic Coriander Seeds - also called Dhaniya or Dhane in Maharashtra, India- is so easily available Online, literally at fingertips.