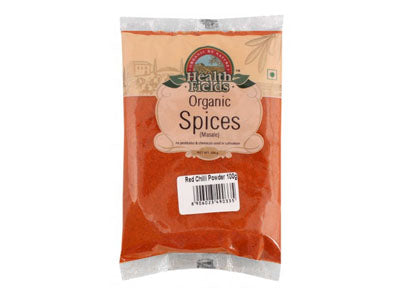 Organic Red Chilli / Lal Mirch Powder (Health Fields)
Currently this Product is Out Of Stock.
Indian food is incomplete without a spicy punch. Then there is no option to pure, bright red, healthy organic chili powder! Nothing can replace it. The spice level of organic chili powder depends on the variety of chili, ranging from milder to extreme hot versions used in it. A variety of red chilli's powder is used to bring that tempting red color and that spice to any curry.
There is an abundance of vitamin C, B6, K, and A as well as iron, magnesium, potassium, and copper in natural chili powder along with proteins, carbohydrates, and fiber. Like all other spices, it is rich in antioxidant compounds which are linked with various health benefits. Consumption in moderation is recommended.
Dry chutneys by grinding groundnut, sesame, or dried coconut and organic chili powder makes a taste palate satiating side dish to be enjoyed with Flat breads or stuffed Parathas. Traditionally, Organic chili powder is stored for around a year or more by adding whole asafoetida gum pieces in it.