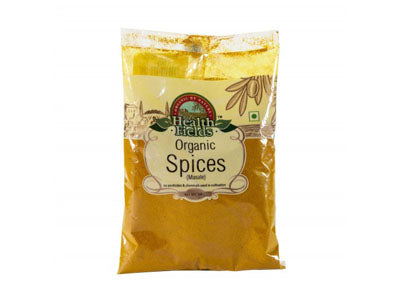 Organic Turmeric Powder / Haldi (Health Fields)
Currently this Product is Out Of Stock.
Organic turmeric powder is considered as the most powerful spices of all and it really is! Organic turmeric or Organic Haldi, is an all-in-one solution for many health problems in every Indian household. It is a staple in all India with its active compound curcumin imparting that lovely yellow tinge.
Organic Turmeric powder is very commonly used to treat cough and mild fever. Usage of pure turmeric powder has been recommended in the Ayurvedic practice due to its holistic health benefits, which has resulted in its recognition and usage in the rest of the world as well. Organic healthy turmeric powder improves brain health by promoting growth hormone. Organic turmeric and crushed organic jaggery are mixed together to make small candies to cure cough throughout the day.
Add a natural and healthy Orgpick organic turmeric powder to curries, smoothies, stir-fried dishes. Try not to fry it in hot oil; instead, just add it as a condiment to your recipe. Turmeric mixed with honey can work as a homemade mask for glowing skin.