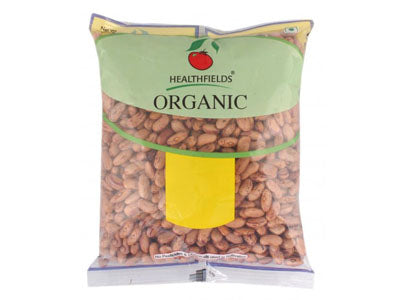 Organic Rajma / kidney Beans (Health Fields)
Currently this Product is Out Of Stock.
Organic Kidney Bean, also popularly known as Rajma in India actually was bought to India from Mexico. As the name suggests, it is bean shaped and red in color. Archeological studies show that they are common beans that date back to 8000 years ago. They were famous among tribes who kept planting seeds on their way to different countries. Red kidney beans hold their shape perfectly even after cooking.
Organic Red Kidney beans are extremely high in protein, which helps in building muscle mass and keeping a healthy figure. It is known to boost our energy and improving our metabolism. It protects the heart due to its HDL or high-density cholesterol which is called good cholesterol. It has antioxidants which help in keeping our skin looking youthful and our hair healthy. It acts as a natural detox food as it clears the digestive tract due to the presence of dietary fiber in a good quantity and also the molybdenum which detoxifies the liver. It also aids in weight loss and proves beneficial for those with diabetes. It cures digestive disorders like constipation and bowel syndrome. When grown organically, no pesticides are used which is better for our body.
You can eat rajma or red kidney beans curry with a side of rice. This is considered as a comfort food by many Indians.