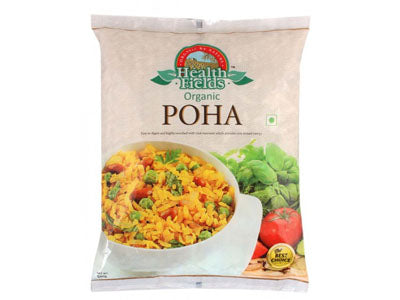 Organic Poha / Flattened Rice (Health Fields)
Currently this Product is Out Of Stock.
Unlike white rice, organic rice doesn't undergo excessive processing. Poha is also known as flattened rice, beaten rice, rice flakes, atukulu, aval and avalakki. These pohas are very light even after they are cooked.
Organic Poha's health benefits known are that they are easier to digest and have more iron content than white rice. Added benefit is that it is organic as well. Rich in dietary fiber, easy to digest, simple to cook, rich in antioxidants with great texture.
Organic flatten rice or Poha is your best alternative to packed foods. Organic poha dishes like Maharashtrian style spiced poha, uncooked poha mixed with Chooped onion, tomatoes, green chillies, salt, sugar and roasted peanuts can be the healthiest breakfast for you to kick start your day!