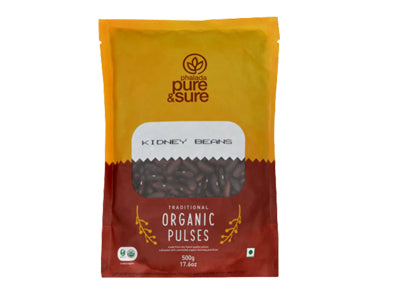 Organic Kidney Beans/Rajma (Pure&Sure)
Currently this Product is Out Of Stock.
Rajma or Kidney Bean is one of India's favorite bean. They are native legumes to Mexico and Central America. It is named so because of its shape. It is an important source of protein, especially for vegetarians. These beans were spread by migrating tribes around 8000 years ago.
Organic Rajma Beans are very beneficial to our health. Firstly, they are a great source of protein and dietary fiber. It is known to reduce cholesterol and also considered suitable for diabetic and prediabetic people. It acts as a quick source of energy and natural detoxifier. Organic Rajma is also known to reduce hypertension. It is an excellent source of molybdenum, folate, and copper. Rajma has manganese, phosphorus, Vitamin B1, Iron and Magnesium in a good quantity. The best quality of Organic Rajma is made without pesticides and very healthy and safe to eat.
From all-time favorite Indian Rajma Chawal to a Mexican burrito, Rajma can be used any cuisine around the globe and would still taste delicious as always. Try adding them to bean noodles for a nutty taste. You can also use it to make baked beans and eat as breakfast with toast and eggs. You can also try making tikkis with potatoes and rajma. Try shallow fried rajma and sweet potato patty to add between burger buns for a healthy but fun meal for kids.