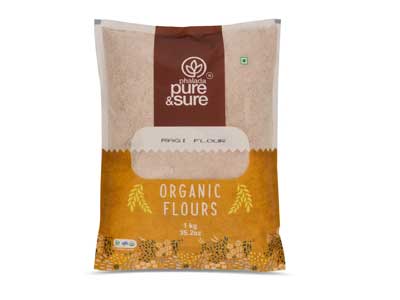 Organic Ragi Flour (Pure&Sure)
Currently this Product is Out Of Stock.
Ragi also known as finger millet or nachni, is native to Africa, but is widely grown in Indian semi-arid regions and is a staple food in many regions. Scientifically, it is named Eleusine coracana. It is a very good and cheap option for large population suffering from malnourishment and nutrient deficiency. Protein found in ragi is said to be equivalent to milk protein and is very much suitable for infants as well as old seniors. So, it is truly a wonder grain.
Pure and Sure ragi flour being gluten free and so is suitable for those who are gluten or lactose intolerant. Certified organic ragi flour has been especially valuable since it contains an important amino acid, methionine, and is loaded with calcium. It has good amount of dietary fiber and has low glycemic index. So, diabetic patients can also enjoy it safely. Being excellent source of iron, it is very much recommended for anemic patients, children and teenagers.
Folks of different regions of our country have their traditional organic ragi flour recipes which are quite simple but tasty as well as healthy. Apart from rotis made of Pure and Sure healthy organic ragi flour, you can also make a health drink. That's right!..Make a thick paste by adding water to 2-3 spoonfuls of pure organic ragi flour. Add half glass of water to it and boil it for 5 minutes. Add rock salt, dried ginger and black pepper powder, garlic paste. Serve chilled mixed with buttermilk and beat the summer heat.