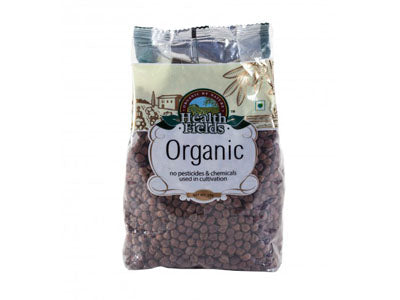 Organic Kala Chana Whole (Health Fields)
Currently this Product is Out Of Stock.
Chana, has many names like Chickpea, Gram, Bengal gram, Garbanzo Bean, Egyptian Pea. Organic kala chana mixed with chopped onion and tomatoes, salt to taste and a dash of lemon is one of the most famous snack Indians enjoy eating even from the streets.
Chana is minerals and vitamins rich. Healthy organic kala chana is very beneficial to our health. It is very high in protein and can be one of the protein replacements of meat for vegetarians. It is also enriched with antioxidants which help to keep our skin and hair looking healthy and nourished.
Best quality organic kaala chana whole can be enjoyed either by just steaming it and adding tomato and cucumber along with seasoning the mixture for a delicious evening snack or add it to different salads to get that bite. You can also try making a spicy curry of it for meals.