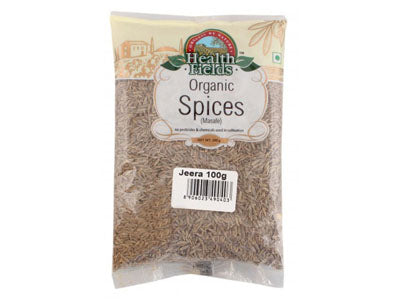 Organic Jeera / Zeera - Cumin (Health Fields)
Currently this Product is Out Of Stock.
Indian household just cannot do without this spice-Organic Cumin Seeds. It is a must have spice in every Indian kitchen, for it's earthy flavor and also for it's medicinal qualities as well.
The Jeera water (cooled water after boiling with cumin seeds) is home remedy for indigestion. Cumin seeds with its antioxidants and vitamin E are highly beneficial for skin and hair. Ayurveda recommends jeera water to detoxify and cool our body. It also works as an immunity booster and iron supplement
Sure it is time to order the all Organic Pure Whole Cumin Seeds right away to enhance the taste of your vegetable preparations, some fritters, flat breads, snacks, chutneys etc.