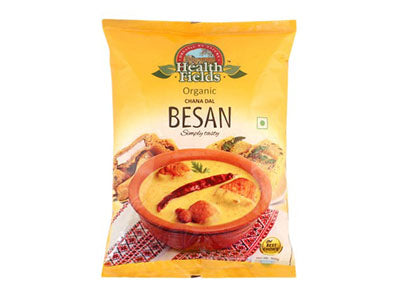 Organic Gram Flour | Chana Besan (Health Fields)
Currently this Product is Out Of Stock.
Organic gram flour or besan is made from dried Chana or chickpeas. India is the largest producer or gram beans. Chickpeas are one of the oldest cultivated legumes dating back 7500 years. Ancient Romans believed its consumption helped increase vitality and vigor. Did you know, since late 1700s ground roasted chickpeas have been used as a substitute to coffee. It gives a similar taste and flavor but has no caffeine. Gram beans come in different colors like beige, green, black, brown or red. It is also known as "Garbanzo." The chickpea plants enrich the soil with nitrogen.
Healthfields organic besan has high protein content and rich in minerals like molybdenum, manganese, folate, copper and zinc. It also has plentiful amounts of antioxidants which relieve our body from oxidative stress which is critical for different body systems. Healthfields certified organic gram flour when rubbed regularly on the face and skin, helps reduce unwanted facial hair.
We all just love any dish that is made from organic gram flour, be it sweet or hot, e.g. dhokla, chakli, paysam, puran poli, or just simple curry. You will see many hot and spicy street foods prepared and consumed daily all over India. As a mid-time healthy snack for your kids, try this. Roast Healthfields natural organic besan with ghee. Let it cool down and add powdered sugar and pinch of cardamom powder to it. Roll a small poori of wheat flour dough and stuff it with this besan-sugar mixture and shallow fry on a pan.