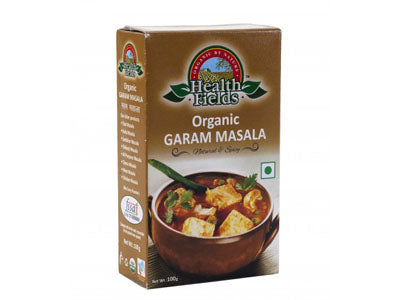 Organic Garam Masala (Health Fields)
Currently this Product is Out Of Stock.
Almost all the Indian houses have Garam masala in their spice box. Garam masala is used regularly in Indian kitchens. Majority of our vegetables have garam masala added after almost cooked. Not just vegetables but the lentils and special spicy rice preparations, Organic garam masala is a must, for it's strong, authentic, tempting aroma and flavors!
Organic Garam masala is made with 100% organic spices which are dried, roasted, and ground to make the powder to last long at least for a year. The perfect proportions of all the spices bring in perfect taste and aroma. It is a blend of many spices making it rich in antioxidants and fibers.
If you do not like the whole Indian spices disturb you when you enjoy delicious Indian curries, Pulav, rice preparations, you can add healthy organic garam masala in the preparations at the last stage of cooking, instead of whole spices and enjoy the dish.