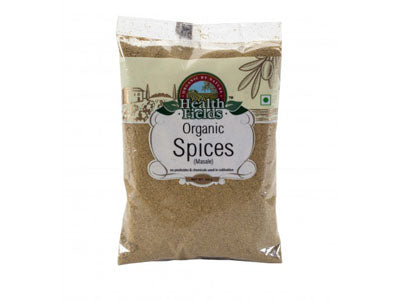 Organic Dhania / Coriander Powder (Health Fields)
Currently this Product is Out Of Stock.
Coriander or dhaniya powder is made with organic dried coriander seeds. It is considered one of the essential spice in Indian kitchens. Best quality natural organic coriander powder helps clear toxins effectively. During the summer season, consumption of water boiled with organic coriander powder and cumin powder helps relieve the heat from the body.
The unique aroma of the coriander comes from the essential oils and fatty acids which are responsible for the typical digestive. It is also an excellent source of vitamin C, iron, copper, magnesium, potassium, and calcium. All these essential contents in the organic coriander help improve immunity, metabolism and prevent hair fall. Natural organic coriander powder is made wiht the best quality 100% Organic coriander seeds which give a distinct aroma and flavor to your recipe.
Buy this best quality, pure organic coriander powder online and make your dishes authentic in taste. You can add this amazing organic coriander powder to paratha dough, fritter batter, seasoning for fried potato wedges.