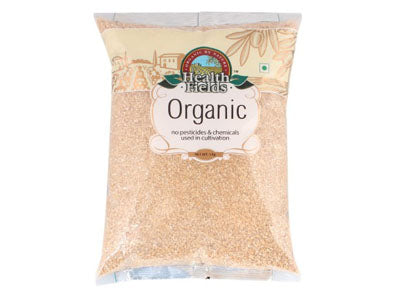 Organic Daliya / Broken Wheat (Health Fields)
Currently this Product is Out Of Stock.
Most of us remember, during our school days, our mom used to prepare sweet Daliya kheer for breakfast or tiffin and how we loved it. In many households, it is one of the breakfast staple dishes served with a hot glass of milk. A bowl of spicy Daliya is also a favorite variant that tops the chart. Since ages, health fanatics, as well as kids or adults, all find Daliya in its various sweet or spicy avatars simply irresistible.
Natural and organic Healthfields Daliya has loads of healthy fiber that is essential to keep our digestive system literally moving. Daliya as cracked whole wheat contains all the nutrients that you get from wheat like protein, minerals like magnesium, zinc, vitamin E and so on. Of course, Healthfields organic Daliya carries all these benefits being nature-friendly with no use of chemicals, fertilizers, or irradiations, all of which we are well aware can endanger our health and environment in long run.
Order pure certified Healthfields organic Daliya online and your taste buds shall simply cherish the rich delicious kheer with cashew nuts, pistachio, and raisins. Of course, you can add whatever tickles your taste buds like jelly, cream, almonds and a variety of fresh fruits. Yeah, don't forget to add cardamom to get that heavenly flavor and aroma. All those fitness savvy bent on cutting down on easy carbs would find Daliya a great alternative to rice dishes. The fat loss seekers, as well as diabetic population, can find Daliya greatly helpful. Daliya khichdi cooked with vegetables as a high-fiber dish will keep your stomach full for a long time.