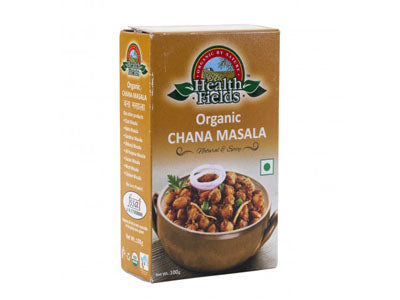 Organic Chana Masala (Health Fields)
Currently this Product is Out Of Stock.
The authentic Chana masala recipe belongs to Punjab, north India. Chole or chickpeas are soaked overnight. Soaked and boiled chickpeas are cooked with special organic spices and are enjoyed with bhatura or poori traditionally. Chana Masala is a signature dish of Punjab, India.
Chole or chickpeas are an excellent source of protein, carbohydrates, and fiber. It is full of calcium, vitamins and thus help improve bone health. So, you can cook Chana Masala at least once a week. But before that, make sure you buy online healthy and best quality organic Chana masala.
You can try making chickpeas salad with various combination with other vegetables or salads, but you can still sprinkle organic chana masala to the salads or to the chat dishes and make it delicious and not boring.