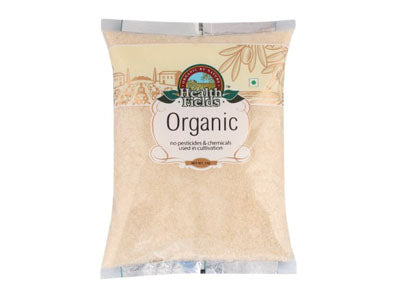 Organic Brown Sugar (Health Fields)
Currently this Product is Out Of Stock.
It is sugar per se, but is actually brown in color and is more beneficial than normal white sugar. It is usually moist due to water retaining property of molasses contained in it. When ordinary white sugar is not completely refined during its manufacture process, the resultant is brown sugar which tastes slightly like molasses. The light brown sugar variety of sugar has a flimsy flavor as compared to the strong molasses flavor of dark brown variety. Organic brown sugars have different names across the world depending upon their country of origin e.g., panela, rapadura, jaggery, muscovado, etc.
Healthfields organic brown sugar definitely provides many health benefits that regular white sugar as it carries some nutritious and invigorating properties that not only nourish your body but also fulfills iron, calcium, phosphorus, and mineral requirements. It acts as an anti-inflammatory and has antimicrobial properties that may prevent infection. Combining Healthfields organic brown sugar with olive oil and massaging the scalp can serve as best scalp scrub.
Natural organic brown sugar caramelizes easily than white sugar and so that gives a distinct flavor when added to the chocolate recipe. When young kids have a cough and cold, you can make a tasty, but medicinal candy, which they will surely love. Boil Healthfields brown sugar in a pan and add ginger and lemon juice, black pepper and turmeric powder. As it starts to harden, pour in a flat pan allow it to cool down. Roll into small balls when still soft.