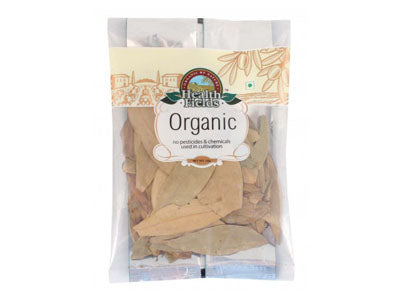 Organic Bay Leaves / Tej Patta (Health Fields)
Currently this Product is Out Of Stock.
Organic Tej Patta\ Bay leaves are dried leaves of tree Cinnamomum tamala. They have a peppery, but sweetish taste. The best quality bay leaves are grown in Nepal, Bhutan, Burma, and North-eastern Indian Himalayas and is an integral part of Mughlai or Hyderabadi and special recipes.
When tej patta is added in a tempering for a dish, the chemicals linalool and eugenol are released and its inhalation is thought to calm the body and mind. Best quality tej patta has astringent, stimulant, antirheumatic and carminative properties.
During cold weathers, organic tej patta tea prepared by boiling it with tulsi leaves, black pepper, ginger, and add some honey later will keep you away from cold and cough, also will keep you upbeat.