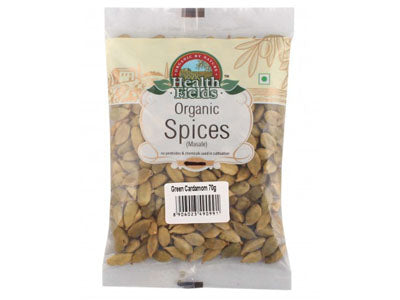 Hari Elaichi - Green Cardamom (Health Fields)
Currently this Product is Out Of Stock.
A perfect spice for amazing soothing aroma and taste, organic green cardamom (Choti Elaichi). This is a spice which can be recognized with its unique, strong and mesmerizing aroma from any corner of the room. It is world's third costliest spice after saffron and vanilla. But all the cost is worth because of the aroma, flavour, and health you get in return.
Organic green cardamom (Choti Elaichi) has equally great medicinal value due to its antioxidant properties and aromatic oils. As per Ayurveda, green cardamom helps in digestion, cure mouth ulcers and prevents bad breath. The cardamom also promotes blood circulation especially in lungs and improves breathing.
The whole healthy, Organic green cardamom or Choti Elaichi is used in the tempering for rice preparations or some curry based vegetables. It is a spice that can is a must in sweet dishes. Indians cannot miss this Organic cardamom in their sweets, but in powder form. Just a pinch of this expensive, healthy, aromatic and flavorful spice is enough for a large quantity of sweet.