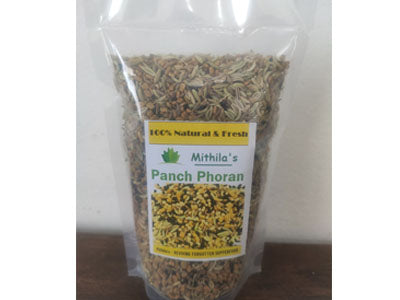 Panch Phoran (Mithila Makhana)
Currently this Product is Out Of Stock.
Panch Phoran is a blend of five natural whole spices. These five whole spices are fenugreek seeds, nigella seed, cumin seed, black mustard seed, and cumin seed. Each one of these has distinct beneficial properties.
Fenugreek seeds(methi) have the ability to lower the glucose level in the body and it is good for skin and hair. 

Nigella Seeds (kalonji) have antioxidants, and help to regulate the blood sugar level, and can prevent stomach ulcers. 

Black mustard is useful in increasing appetite. 

Mustard seeds are rich in calcium, manganese, and omega 3 fatty acids. 

Cumin seeds have anticancer properties, antioxidants, and aids in weight loss.