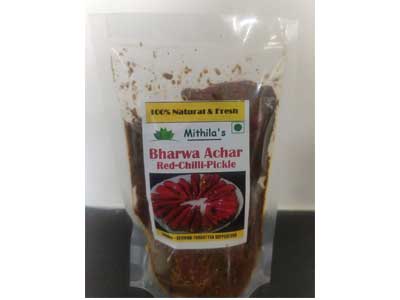 Bharwa Achar - Red-Chilli-Pickle (Mithila Makhana)
Currently this Product is Out Of Stock.
Red chilli pickle (Bharwa Achar)
is made by stuffing masala in the red chillies. Pickles are made during the summers and it is delicious and hot in taste. The stuffing masala is made with fennel seeds, fenugreek seeds, mustard seeds, amchur powder, turmeric, hing, and edible salt, all blended and put into the jar of chilies. Then warm mustard oil is poured into the jar which is then kept in the sunlight for many days so that all the flavors are mixed nicely due to heat in the packed jar. Pickles have the goodness of probiotics. Shop this 100% Natural Bharwa Achar and make every meal taste even better.