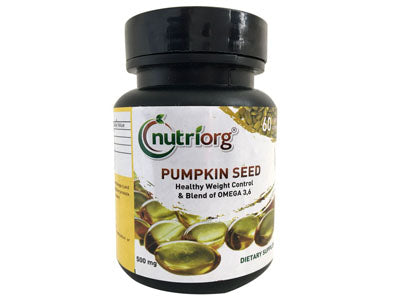 Pumpkin Seed Oil Soft Gel Capsule (Nutriorg)
Currently this Product is Out Of Stock.
The Nutriorg Pumpkin Seed Oil (500 mg) Capsules are made from 100% organic and vegetarian pumpkins in company-owned certified organic farms. Pumpkin seeds are also known as pepitas and are a natural source of vitamins, minerals, and essential fatty acids. 
Helps to combat skin problems.

 Antioxidants present in pumpkin seed extracts are essential for the regrowth of skin and wound healing.

Pumpkin Seed Oil is said to uplift mental health.

 It enhances hair growth.

 It helps to relieve a few symptoms of menopause.

It helps in supporting prostate and urinary tract health.
Usage:
Take capsules twice a day.

Intake preferably in the Morning and Evening.

Consume the capsule post-meal.