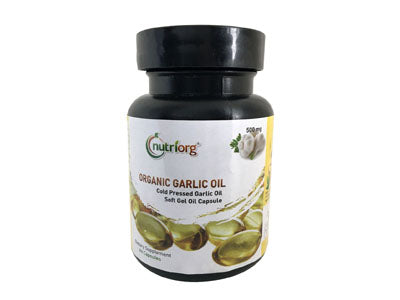 Organic Garlic Oil Soft Gel Capsule (Nutriorg)
Currently this Product is Out Of Stock.
Nutriorg Garlic oil has been extracted from 100% vegetarian garlic. Apart from being an ingredient that has extensive culinary usage, garlic's rich antibacterial, antifungal, and antiviral properties make it a natural healing agent.
 Garlic has important active compounds that have excellent blood pressure control properties.

Improves cholesterol levels.

Strengthens the immune system. 

Garlic also helps combat the common cold and other viruses.

Contains antioxidants that help improve Alzheimer's and Dementia conditions. 

Remove fatigue in the body. 

Garlic helps in detoxification.

Garlic checks bone loss especially in females by increasing their estrogen levels in their body.
Usage
Take capsules twice a day.

Intake preferably in the Morning and Evening.

Consume the capsule post-meal.