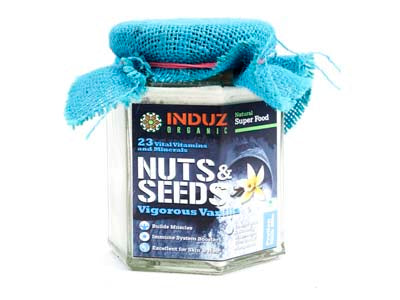 Organic Nut & Seeds Vanilla Powder (Induz Organic)
Currently this Product is Out Of Stock.
Organic Nut & Seeds Vanilla is a protein milk mix vanilla powder that is prepared from natural and premium quality vanilla beans. Vanilla is very aromatic and has an amazing flavor. This package contains no harmful coloration or chemicals. This protein milk mix powder adds more nutrients to a glass of plain milk. 
Ingredients: Almonds, Pistachios, Cashew, Chironji, Saffron, Vanilla Pods, Poppy Seeds, Pumpkin Seeds, Melon Seeds, Dried Rose Petals, and Honey.  
Direction to use: Add 2 tbsp in a glass of hot or cold milk & stir