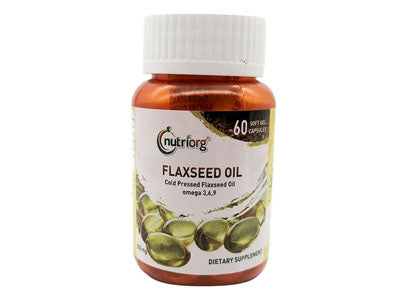 Flaxseed Oil Soft Gel Capsule (Nutriorg)
Currently this Product is Out Of Stock.
Nutriorg Flax Seed Oil 500 mg capsules are made from 100% vegetarian Flaxseeds. It is extracted from the highest quality of organic flaxseeds. It helps to detoxify the body and reduces obesity. Flaxseed is the most trusted source of Omega-3 for a vegetarian diet. Omega-3 is a major component of the cell membranes. The Nutriorg Flaxseed Capsule is rich in Omega -3 heart-healthy fatty acids. 
It works wonders in improving diarrhea and constipation conditions.

 Flaxseeds are believed to reduce inflammation.

It is rich in healthy fatty acids.
Usage
Consume the capsules twice a day.

Intake preferably in the Morning and Evening.

Consume the capsule post-meal.