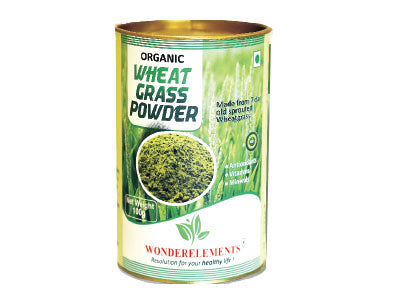 Organic Wheat Grass Powder (WonderElements)
Currently this Product is Out Of Stock.
Organic Wheat Grass Powder is referred to as the super potent health food with amazing benefits. It is prepared from the freshly sprouted leaves of a common wheat plant (Triticum aestivum). Consume it on an empty stomach with honey and water. You can have it with milk, smoothie also.
Boost the immune power

Improves the nerve signal and mental well being

Restoring the fertility and balancing the hormones

Detoxify the heavy body metals

Helps with the blood sugar regulation

Promotes healthy metabolism

Act an antibacterial

Rebuild & strengthens the blood

Improve the digestion

Improve digestion and eyesight