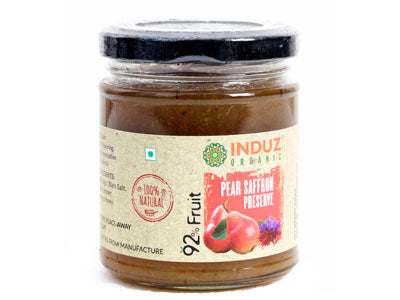 Natural Pear Saffron Preserve (InduzOrganic)
Currently this Product is Out Of Stock.
Natural Pear and Saffron Preserve are made with natural ingredients. It has the benefits of pear and saffron which makes it healthy and yummy. It is made with pear, saffron, cottage sugar, black salt, black cardamom, black pepper, fennel seeds, cinnamon, honey, lemon juice. It has no added preservatives, no added color, and is made with pure fruit extracts.
Pear helps to regulate bowel

Pear helps to prevent short breath

Promotes tissue building

Saffron promotes blood cell production

Saffron has therapeutic properties 

It is great for skin 
Use it as a spread over bread, Rotis, cookies, etc.