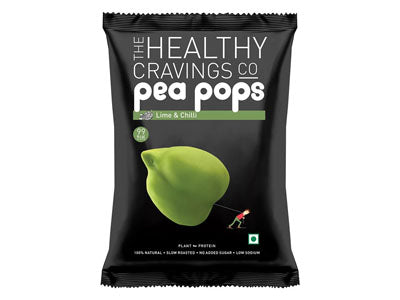 Roasted Pea Pops - Lime & Chilli (The Healthy Cravings Co)
Currently this Product is Out Of Stock.
One evening at the office Pea overheard his colleagues argue. Chilli said, "Stop chilling and hurry up! We can't miss the dead-lime for this project". Lime replied, "I believe in quality work, don't blame me later if there are any mistakes". Pea interrupted them and said, "Let me help you, this project is a peas of cake!". Open the pack to find out if they managed to see the lime of the day. Peas out!
Ingredients: Green Peas, Rice, Oats, Lemon Powder, Chilli Powder, Mustard Seed Powder, Rice Bran Oil, Salt, Natural & Nature Identical Flavors
Benefits: -
100% Natural

Cholesterol-free, gluten-free, dairy-free

0% Trans-fat

Plant-based protein

No Preservatives, No Artificial Colors, No Additives

Rich in Antioxidants