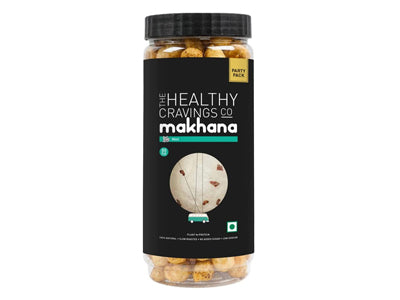 Roasted Makhana - Mint (The Healthy Cravings Co)
Currently this Product is Out Of Stock.
When health meets snack, the usual becomes exotic. In this pack, exception is an example because the rich nutrients of Makhanas lie in the unison with the finest taste you can savour. The mind won't hurt you and the heart won't mind because the short eat is not only made from rich plant proteins but also is cholesterol-free and roasted to perfection. So come relish a snack that promises only one thing- 'All food, All good'. If the taste is an emotion, this is mixed. Party's heartthrob. the flavor Mint is indeed a great pair to every palate you chose. Ok, no more spoilers ahead, come wake the pack from its snooze.
Ingredients: Makhana/Foxnut, Dried Mint Leaves, Fine Dried Mango, Ground Pepper, Pink Salt, Rice Bran Oil
Benefits: -
100% Natural

Cholesterol-free

Gluten-free

0% Trans-fat

Dairy-free

Made with minimal processing

All packets are Nitrogen-flushed