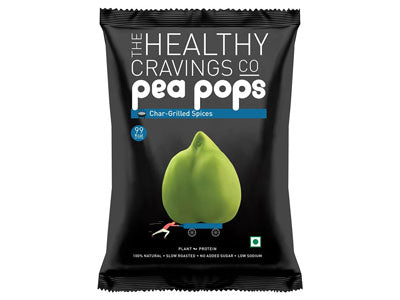 Roasted Pea Pops - Char-Grilled Spices (The Healthy Cravings Co)
Currently this Product is Out Of Stock.
Pea was chilling with his friends when a stranger joined them. He claimed to be a spy and started grilling them about the smoke coming out of their bag-pack. Pea panicked and started running until he found a place to hide. Pea's secret is still safe in this pack. Open the packet to find out where the smoke came from. Peas out!
Ingredients: Green peas, Rice, Oats, Red Chilli Powder, Cumin Powder, Cardamom, Black Pepper, Cinnamon, Bay Leaf, Clove, Kasoori Methi, Garlic Powder, Tomato Powder, Lemon Powder, Dried Oregano, Dried Rosemary, Dried Thyme, Rice Bran Oil, Salt, Natural & Nature Identical Flavors
Benefits: -
100% Natural

C

holesterol-free, 

Gluten-free, dairy-free

0% Trans-fat

Plant-based protein

No Preservatives, 

No Artificial Colors, No Additives

Rich in Antioxidants