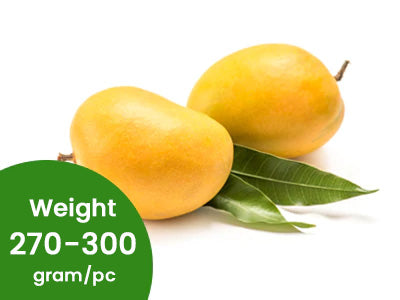 Organic Premium Alphonso Mango (Size Large)
Currently this Product is Out Of Stock.
Name: 100% Organic Premium Alphonso Mangoes
Quantity: 9 Pieces
Weight: 270-300 gram per piece
Organic Alphonso Mango (Size Large) compared to the size A, or B Organic Alphonso Mango doesn't differ at any quality, be it taste, color, aroma; the only difference it has is its large size. Mango is spread to southeast Asian countries and even reached California. Mango is the most consumed freshly cut fruit in the world.
Fresh Organic Alphonso Mango is packed with health benefits. It is a great source of iron which is helpful to anemic patients. It helps in preventing cancer and fighting it. Best quality organic Alphonso mangoes are a rich source of Vitamin A, E, and selenium.
Alphonso mango enhances the taste of any fruity dish. One can try making mango ice cream on a hot summer day or just make the traditional Indian Amras. Pulp or chopped mangoes enhance the taste of your chilled fruit salad during hot summers.