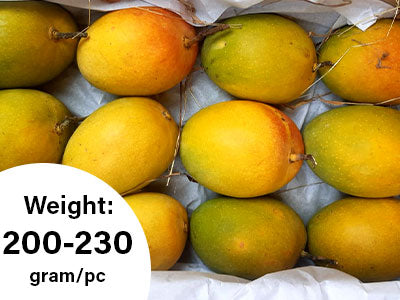 Organically Grown Devgad Alphonso Mango- 1 Dozen
Currently this Product is Out Of Stock.
Name: Organically Grown Devgad Alphonso Mango
Quantity: 1 Dozen
Weight: 200-230 grams per piece
After ripening mango's weight would decrease by 10 to 15 %

The pulpy, deliciously sweet Devgad Alphanso Mangoes. Alphanso Mango of the most excellent quality sourced and handpicked from Devgad. Alphonso mangoes are organically grown, naturally ripened, and carbide-free. Hapus aam is one of the most eaten tropical fruit and it is not only sweet but extremely healthy. Fresh mangoes contain a large amount of potassium which helps manage blood pressure and coronary heart disease. It is packed with vitamins and good for the immune system.