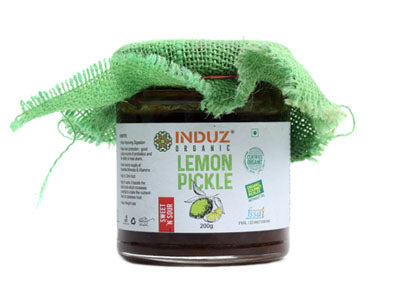 Organic Lemon Sweet & Sour Pickle (InduzOrganic)
Currently this Product is Out Of Stock.
Organic lemon Sweet and sour pickle is a flavourful pickle made without using any unwanted synthetic chemicals. It has pure ingredients such as Lemon, Sugar, Ajwain, Garam Masala, Back pepper, Chilli flakes, turmeric, rock salt, and Black salt. The recipe is inspired by traditional Indian methods. It is sweet and sour and can be consumed with any meal, roti, bread, etc.