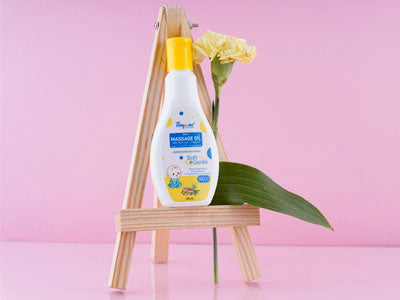 Massage Oil (Tinyone)
Currently this Product is Out Of Stock.
This massage oil is meant to provide muscle strength to infants. It contains natural and ayurvedic ingredients such as Ashwagandha, coconut cream, vitamin E, jojoba, lavender, lemongrass, olive, almond, sesame, aloe vera, and neem.
Aloe Vera is a medicinal plant which treats skin ailments, helps to keep the skin smooth and glossy.

Ashwagandha has natural oils which strengthens muscle mass and helps heal muscle fatigue.

Neem has antibiotic properties which protects the baby's skin from any bad bacteria.

Jojoba helps to keep away skin infections and moisturizes the skin. Each ingredient is natural and pure which causes no harm to the baby's skin.