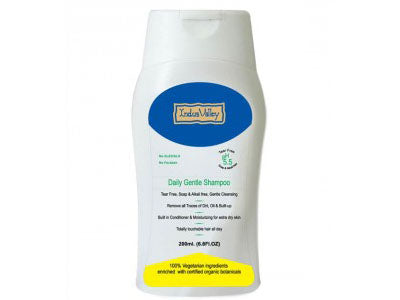 Daily Gentle Shampoo (Indus Valley)
Currently this Product is Out Of Stock.
"Indus Valley Daily Gentle shampoo is made specially to suit all types of hair that maintains the pH balance of the scalp. This product is Aloe-Vera & Glycerine based that nourishes hair scalp thoroughly and removes dryness from hair. Indus Valley Daily Care Shampoo does not contain any such agents which make hair dry. Indus Valley shampoo is recommended by Dermatologist, and safe Shampoo. The shampoo contains only Pure Ingredients that moisturize hair scalp, nourishes hair and scalp, prevent from hair from dryness, gives UV protection, makes hair silky smooth and bouncy."